Meet Oceanne Skoog, A Nursing Major from PSU through CIS Abroad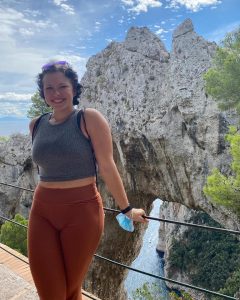 I have always had a deep rooted passion for traveling. However, I was rather hesitant about studying abroad. I graduated early, at the age of 16, to pursue a Nursing degree. If I were to study abroad, I would have to add a semester, maybe even a whole year to my degree and schooling! After lots and lots of back and forth, I finally decided to jump in with both feet, and go abroad! I can say with full confidence that this experience has helped me grow as a student and as an individual. Leaving home for the first time was nerve-wracking to say the least! It's not easy at first, but it is so so worth it! Here at Sant'anna, you have the best support system who will help you in every way imaginable to make the experience and transition as comfortable as possible. Since I didn't turn 18 until after the semester started, I was unable to come at the same time as everyone else (you can't apply for a 16 week visa until you turn 18). So, I spent the first 4 weeks online, then flew to Sant'anna for the remaining 12 weeks. Although the time difference can be a little tricky to begin with, the professors here in Sorrento are amazingly helpful, always communicate, and are willing to even send you videos of the lecture if the class is too early for you (I recommend this; I was waking up at 4am for a while!).
Since arriving at the Institute, it has been an absolute dream. The students are so kind, and I personally lucked out and got the best roommate, Maya! Together we have made memories that will last a lifetime. I have been to Capri and Anacapri, which make up an island off the coast of Italy. It was incredible! Maya and I, over the 10 day break during October, went to Paris, France and Berlin, Germany. There are so many opportunities to see more countries than you ever imagined! Even if you choose to stay in Italy, there's Florence, Rome, Capri, the Almafi coast, and so many more incredible places to see. If you're anything like me and grew up in the countryside, chances are you felt a brief moment of panic thinking about public transportation and how it works. Don't fret, it's easy! There are buses here, as well as ferries and a train that can bring you to Vesuvius, Naples, and anywhere else you could imagine. Maya and I took a full day train to get from Paris to Berlin, and we saw some of the most beautiful, amazing sights! While we were in our destinations, we visited the Catacombs, the Eiffel tower, comedy shows, museums, and had AMAZING food! Maya and I had some speed bumps on our trip, for example my phone was stolen with all of my cards in it! Nevertheless, we trudged on and had the most spectacular time of our lives. Plus, if anything does happen, the "family" working back home at Sant'anna are just a text or phone call away, and genuinely care about the students. They will do anything and everything to help students, in any way they need it. They helped me every step of the way!
Focusing on living here in Sorrento, you can get everywhere by walking. There are grocery stores, a gym, so many little shops, and tons of delicious restaurants all less than a 10 minute walk away, and very affordable! The dorms have super comfy beds, and you certainly make good memories cooking in the kitchen (or learning to cook for yourself, rather) with everyone in Sant'anna! There is a deck with a breathtaking view of the water and Mount Vesuvius, where I often go to Facetime family, do my homework, or just relax and have a morning cup of coffee. My only complaint is how sad I am that I have to go home! Sant'anna really does feel like a second home to me, and I have truly fallen in love with Sorrento. Even though it sounds cliche, I genuinely mean it when I say, if you're thinking about it, do it!