Studying Abroad at Sant'Anna – the Experience of Kaitlin Cunningham (University of Denver, through CIS Abroad)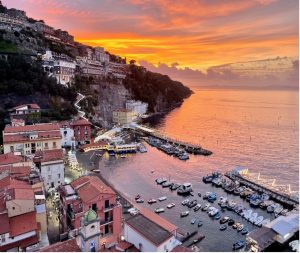 As my time abroad comes to a close, I could not be more grateful for the opportunities Sant'Anna Institute has provided me with.  Studying abroad during a global pandemic is no easy task and Italy was not plan A…or plan B…but it is this little town of Sorrento, and all the places I have been able to explore beyond it that have made all the hassle worth it.  From the moment I switched programs in mid-July, I was immediately caught up to speed in figuring out housing, obtaining an Italian Visa, getting health insurance, and registering for courses – and it has been smooth sailing ever since.
Here at Sant'Anna I am taking an assortment of business courses that will transfer back to my home university as elective credits.  Most students here take 3-4 courses, and since my college, the University of Denver, uses the quarter system, I only had to take 3 classes: Food Marketing, Competing in a Global Environment, and Italy & Tourism.  All of the professor's here at Sant'Anna are very engaging with the students and provide us with ample opportunities outside of the classroom.  In Food Marketing we have toured multiple local food companies, like Il Turuziello, a mozzarella manufacturer, and Frantoio Gargiulo, an olive oil company.  For Competing in a Global Environment and Italy & Tourism we were given the opportunity to attend the G20 and listen to entrepreneurs from around the world pitch their companies.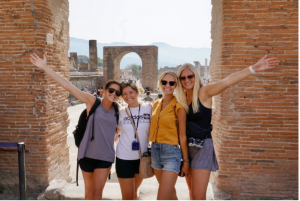 Outside of class field trips, there are also an assortment of excursions and activities that are open to all students at Sant'Anna, and there is always something for everyone to enjoy!  Some of my favorites have been touring Pompeii, which has been a dream of mine since I was a little girl, and the tiramisu making class – I have now acquired an assortment of recipes I will be able to bring back to the states with me!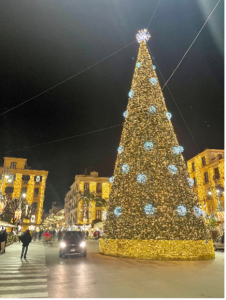 When I am not in class or busy with all the other fun activities, I love exploring Sorrento, the Amalfi Coast, and traveling to new countries.  With each season, there is something new and exciting that Sorrento has to offer.  Our first month and a half was spent jumping off the pier, hanging out at the beach club, swimming in the Mediterranean Sea and tanning on the roof during every opportunity we had in between classes.  It was an absolute dream, especially coming from a land-locked state.  As the weather has gotten colder, Sorrento has turned into a Christmas wonderland – as long as I have a good umbrella and rain jacket!  There are orange and lemon trees on every corner and the entire city is decked out in Christmas lights and nativity scenes.
Of course, one of the big reasons I wanted to go abroad was to travel, and I certainly have not had a shortage of traveling.  So far, I have been to 11 countries and a group of 15 of us have one final trip planned for our last weekend here to go skiing in French Alps.  Sant'Anna is about a 15-20 minute walk to the train station and from there, about an hour and a half train or bus ride to the Naples Airport, where you can catch flights to anywhere you would ever want to go.  Some of my favorite trips have been Santorini, Greece, Budapest, Hungary, a road trip through Switzerland, including a stop in Zermatt to see the Matterhorn and paragliding in Interlaken, and going on a camel lead Sahara Desert tour in Morocco.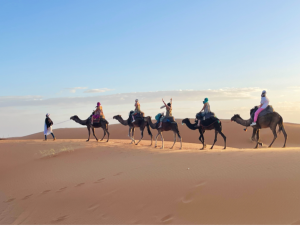 With each new city I visit, however, I have a new appreciation for the place I get to call home for the semester – Sorrento.  There are so many restaurants to check out.  Corso Italia, the main street, has fun shops, gelato stands, bars, and live music to enjoy.  Each time I wander the streets, I find a new corner of the town I have yet to explore.  Best of all, everything is in walking distance, so there is no confusion of public transportation.
I have had the opportunity to travel with so many different students here studying with me at Sant'Anna and it has been so much fun to get to know everyone.  While we are a small group of just 35 students, we have created a special bond and I am so thankful to be sharing this experience with all of my new friends.  We will be savoring our last week and a half together and while we will each be spread out throughout the country when we return home, I will continue to keep in touch, as I know I have made lifelong friends and travel buddies.
Kaitlin Cunningham
Denver University, through CIS Abroad
Previous
October 28, 2021