Meet Ava Crawford, Intern at the ArcheoClub in Massa Lubrense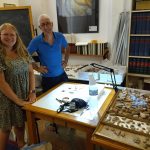 The first time I came to Italy, I was eleven years old. I went to museums and saw amazing statues and the ruins of the ancient world scattered across the city, even visited the Colosseum, and I was so amazed by how connected to history the city was. Now, as an adult and a student, I am able to fully appreciate this connection while I spend the summer in Sorrento.
As a double major in Art History and Classical Studies, I knew I wanted to study abroad in Italy, the birthplace of the Renaissance and the cradle of Roman civilization. It was because of my interest in these topics that I decided to minor in Italian Studies. I was drawn to Sant'Anna because of the unique course offerings — while I could take archeology anywhere, Sant'Anna was then the only school where I could go to Pompeii on a weekend field trip, and then spontaneously decide to hike Mount Vesuvius. I've been to Herculaneum and museums with archaeological finds as a part of Sant'Anna's program, and also been able to go to ancient sites like Bagni Regina Giovanna on my own. Not only do I practice and learn Italian in class, but I also get to speak it at restaurants and shops.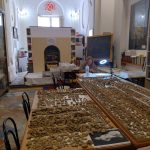 The LEAD Internship program gave me an amazing opportunity to work with the Archeoclub d'Italia in Massa Lubrense, which has so many positives: because it is a local Italian group, some of the people I work with don't speak English, so I can practice Italian and learn better communication skills. As a part of my internship, I am cataloging artifacts from around the region; labeling, cleaning, identifying motifs and art styles, and documenting the process. I get to work with a professor from Sant'Anna, the director of Archeoclub, and a high school student doing archeology as a service learning project. The internship has not only allowed me to explore my academic interests in a real-world scenario, but introduced me to
interesting people. Also as a part of the internship, I will be taking classes in archaeological process as well as learning about the history and mythology surrounding the area of Punta della Campanella, the area where most of the artifacts come from.
Ava Crawford – Rising junior at Elon University with a double major in Classical Studies and Art History, minoring in Italian Studies