Alumni Stories: Chad Blunt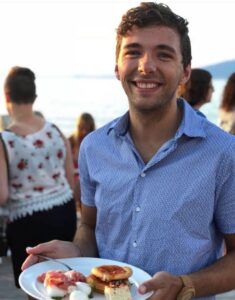 Hi my name is Chad Blunt and I currently live in Denver, Colorado. I studied abroad at Sant'Anna Institute during the Spring of 2016, and immediately knew this was my place. I ended up returning to intern at Sant'Anna from Summer 2017- Summer 2019 as a Study Abroad Assistant, where I immediately became a member of the team and later my own little family. Sant'Anna was instrumental in my professional development and personal growth, leading me to pursue my Master's Degree in Higher Education and Student Affairs. My experience as a Study Abroad Assistant directly influenced the hiring team at the University of Colorado Denver to offered me my current position as a Job Location and Development and Outreach Coordinator. I will forever be thankful for being able to get a headstart on my career and cherish all my memories with the amazing people at Sant'Anna Institute.
Sant'Anna acted as a home base while living in a world completely different from my own. From this I was able to begin the process of rediscovering who I really am, while receiving the support and comfort that one always needs. I will be forever grateful for my time at Sant'Anna and have made lifelong friendships because of it.