Meet Lucienne Gesualdo – Post Advanced Italian Student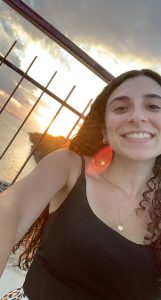 My name is Lucienne Gesualdo, and I am a Finance and Accounting double major with a minor in Italian. There is no better way to learn a language and culture than to be emersed completely into it. For this reason, I choose to attend the Sant'Anna Institute for a summer session. As an American with a family of Italian origins, studying abroad represented a way to become more accustomed to the culture and improve my speaking skills. In my search for a study abroad program I quickly realized that most programs are in larger cities with ample amounts of tourist activity. Sorrento on the other hand is a tourist city, but it is more authentic than other larger cities. There are tourists, as it is a beautiful place to visit, however there are many opportunities to speak to the pleasant locals. This was extremely important for me because I did not want to attend a program with no outside opportunities to practice the language. A great part about Sant'Anna is that they have a wide variety of classes available which provides ample opportunities to meet many different types of people at the institute. Although not all of them speak Italian, I find that I can help them in certain scenarios where they need to communicate in Italian. It has been amazing meeting people from all over the world as well as getting to know people from Sorrento including the wonderful staff. 
Sant'Anna is truly special because they were willing and able to host a Post Italian Language class even if I was the only one to take it. This opportunity is unmatched because for the whole duration of the class I am completely engaged with the professor in one-on-one conversation. The small class sizes give a huge advantage to their students by providing them with an exceptional education. I have seen a significant positive effect on my Italian skills since the beginning of the program and this is largely attributed to my amazing professor. It is imperative while learning a language to have a patient and constructive instructor, so that you do not become fearful of making errors. This is just what Sant'Anna provides. The class extends beyond the borders of the syllabus with useful and personal conversations. With this structure of the course, I am able to apply the different grammar topics that I have learned in practice. The difference between learning a language in a different university and learning a language in that specific country is that there are more opportunities to apply the language. The more you use it, the better you learn and remember the language.
Being Italian is a large part of my life as it is why I have many of the values that I do. In conversations in class, I am recognizing this more and more with similarities between my family and the aspects of Italian culture that I am learning about and experiencing firsthand in the community. I always noticed that there was a large difference in the way my family lived in relation to the American culture, but now I understand that it is due to our Italian heritage. I do feel more connected to my Italian heritage here and I have gained a greater understanding for my roots. After having a difficult year with family health issues, it has been comforting to be in their homeland learning and exploring. At the end of the semester, I plan to continue my stay in Italy to visit my family's hometowns and see my relatives. I do feel more comfortable in doing this because of the lessons and skills that I am learning at Sant'Anna. Coming into the program I would not have described myself as confident, but now I can say that I have certainly grown as a person.