5 Ways to Wellbeing a project by Hannah Vincent, Psychology and Mental Health Intern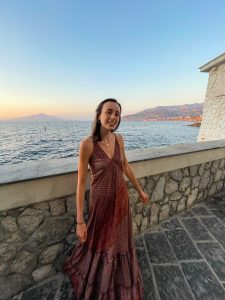 My name is Hannah and I am a senior at Gordon College studying psychology and education. I completed a psychology and mental health internship working with faculty and staff at Sant'Anna Institute in July of 2021. My primary role was assessing the Covid-19 pandemic's impact on the mental health of youth, and introducing a mental wellbeing program in Italian high schools based on survey data. I created and distributed an online survey to local Italian high schools with the collaboration of Sorrento Lingue, Sant'Anna's foreign language department. Afterwards, I completed research and an analysis based on survey data that served as the foundation for focusing on the evidence-based wellbeing program: 5 Ways to Wellbeing. I had the opportunity to introduce the wellbeing program to a group of student ambassadors and discuss their ideas through leading a group meeting. In the fall of 2021, the students will start conversations around the topic of mental health and introduce the program to their respective schools. My second project was policy reform at Sant'Anna Institute. As the school is a relatively smaller institution, there is a need for expansion of measures to support the mental health of students while abroad. I proposed and introduced possible policy and structure changes to the website, accommodation form, pre-departure booklet and student orientation related to mental health support.
Italy and the United States are known as pioneering nations in deinstitutionalizing mental hospitals. In comparison, both countries have been working towards community-based care for mental health, but have taken different approaches. As of recently, the United States has begun tackling the "mental health crisis" and addressing mental health in school and university settings.  Analysis of depression trends in Italy reveal that mental health issues appear to prevail later in life compared to the United States. Most likely, mental health struggles are present earlier in Italy, but the topic is culturally taboo, so there may be a lack of expression and awareness. Taking a preventative and proactive approach in the Italian school system during adolescence may serve as a protective factor for future health concerns psychologically and physically. In introducing a mental health program in the Italian school system, holds the opportunity to impact multiple generations as depression and other disorders are genetic and can be passed down through generations. Therefore, a driving motivation is that establishing positive wellbeing in just one individual can have an impact on that person's children and future generations.
Unlike in the United States, the school counselor and/ or school psychologist position in Italy is rarely found. With limited published studies on school counseling and mental health in Italy, research from the comfort of my own home could only take me so far. So, I took the risk to explore and learn for myself, amidst the global pandemic, and in doing so my eyes were opened. I not only understand a different culture's system and attitude towards mental health, but a personal drive for addressing mental health in the wake of the pandemic was fueled. By wrapping my mind around the introduction of a mental health program in a country with limited resources and established programs in this area, I learned to effectively articulate my ideas and research into tangible products. The research, skills refined, and experiences of this internship will undoubtedly carry over to future professional jobs and endeavors. Although cliché, I have realized that in this world, there is so much to experience, see and do, and I have only begun to scratch the surface.  With an increased personal and professional maturity, I am confident in my upcoming path of graduating, tackling the "real world," and fostering holistic wellbeing in future generations through my summer internship experience at Sant 'Anna Institute.