Pompeii: A Reflection, by Luka Newcombe
Archaeological Field Trip
13 February 2021
Last friday, when we were riding the train to Pompeii, I was not certain of what I should expect. I knew it was an incredibly famous archaeological site, and an epicenter for tourism and historical sig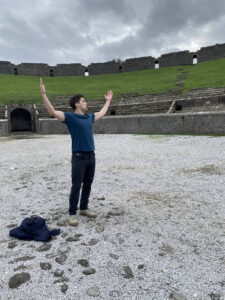 nificance in Italy. What I was not expecting was how unexpectedly emotional it would be. To walk around the empty streets and through abandoned homes, preserved perfectly by the very thing that destroyed it, I found myself breathless on multiple occasions. The simple act of walking where people walked and standing where people stood two millennia ago unlocked feelings within me that I didn't know existed. Small, personal visual details that humanized the last inhabitants of the city to me. The weathered corners of a fountain, where people rested their hands drinking from the spigot, or the bright red political graffiti on storefronts, announcing an election that would never come to pass. The reality of the COVID-19 pandemic made my small group of 9 the sole inhabitants of the city, adding to the feeling of emptiness that I am guessing few members of the general public have experienced. It was equal parts haunting, tragic, and beautiful.
Another thing that struck me was simply how well-preserved all of the buildings were. For many buildings, they were structurally intact, aside from the roofs, that were made of wood at the time, and therefore collapsed or disintegrated over the many centuries they laid buried. I could perfectly see how this was once a living, breathing place, with a government, a robust economic system, and thousands of citizens. It was something that made the entire experience all the more fulfilling-to know, and really see, that these ruins weren't just buildings and structures
made of stone. They are the proof of an entire culture and empire, full of interesting people and social dynamics. I have never seen an archaeological site that quite made me feel as Pompeii did. But it does leave me craving new sites like it to experience. I hope that I can find many other places like it in future years.
Luka Newcombe, CIS Abroad Student from UMass Amherst
Previous
February 22, 2021