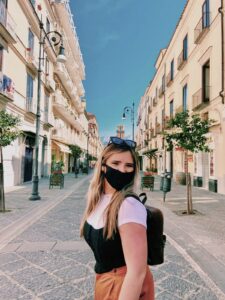 Tyler's Touch is a non-profit that aims to provide efficient and accessible toiletry products to the shelters that house victims of domestic abuse. While doing so, it is our goal to spread awareness of the overlooked issue and empower these victims with the knowledge of them knowing they are not alone.
Tyler's Touch was created in the hopes to bring together communities and put good out into the world in the name of victims of domestic violence. In light of recent events, it is not as accustomed to hear good news or feel the power of a community coming together for common good. As someone who values the significance of community, I feel an overwhelming amount of joy to have the opportunity to contribute to the community surrounding victims of domestic violence through Tyler's Touch.
For the following few weeks, Tyler's Touch and Sant'Anna Institute will be working to collect toiletry products from local hotels and businesses with the goal of donating them to a women's shelter in Napoli.
Any contribution or support is greatly appreciated and recognized, thank you.