Study Abroad Survival Guide: 5 Tips to Navigate your First Month in Sorrento
By: Olivia Romano
Studying in a foreign country is a rewarding experience that allows you to be immersed in another culture. However, learning to navigate different customs can be tricky. Here is some advice to get your footing in Sorrento.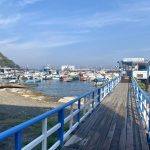 Communicating with locals
The Sorrento locals are exceedingly friendly, and you will always be greeted as you enter shops and restaurants. Respond to anyone older than you with buongiorno, buonasera, and buonanotte, even if they say ciao. This formal response is a sign of respect.
What to wear
If you want to dress the part, the Italian style is business casual with neutral colors, such as black, white, tan, etc. Loungewear or athletic clothes are not worn unless actively working out. Do you want to shop while you're here? Clothing sizes are labeled differently. For clothes, you can typically add 30 to your size in the U.S. For example, a size 8 in the U.S. is likely a size 38 in Italy. You may also want to learn the conversion for your shoe size too!
Restaurant etiquette
Don't let restaurant customs catch you by surprise! Italians typically order food and drinks at once, and pay together at the end of the meal. If you are out with your friends, don't split the bill. Instead, carry cash or Venmo the generous friend who picks up the check. Also, keep in mind that Italians typically eat dinner no earlier than 7:30pm. Many restaurants and cafes will close the kitchen between lunch and dinner but will still offer drinks to anyone searching for a refreshing treat and a social hour with friends.
Sustainability
Italians promote sustainability. Most homes do not have dryers, and families will instead hang clothes to dry on lines or drying racks. There is also an efficient recycling system. Paper and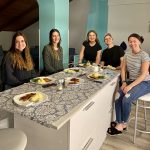 cardboard, plastic and glass, organic waste, and non-recyclable trash each have an assigned day of the week to be picked up overnight. Simply place the correct bag in the designated pick-up spot outside of your building after 8pm, and it will be gone by morning.
Preparing your own food
Cooking your own meals is a helpful way to save money while living on a budget. Research meals for one or invite others to join you to meet more people and learn how to cook new food. Shop for food like an Italian by getting ingredients from the market the same day you plan to use them for your meal. Markets often offer fresh fish, bread, meat, and fruits. Be careful not to stock up and let your food expire!
Would you like to learn more? Check out our weekly Italian Culture 101 posts on Instagram (@santannainstitute) for more helpful tips.
Previous
February 22, 2022