The Town Italy Forgot: Villa San Marco and Ancient Stabiae
Written by Skye Melrose, Communications Intern at Sant'Anna Institute, Class of 2019 at the University of Florida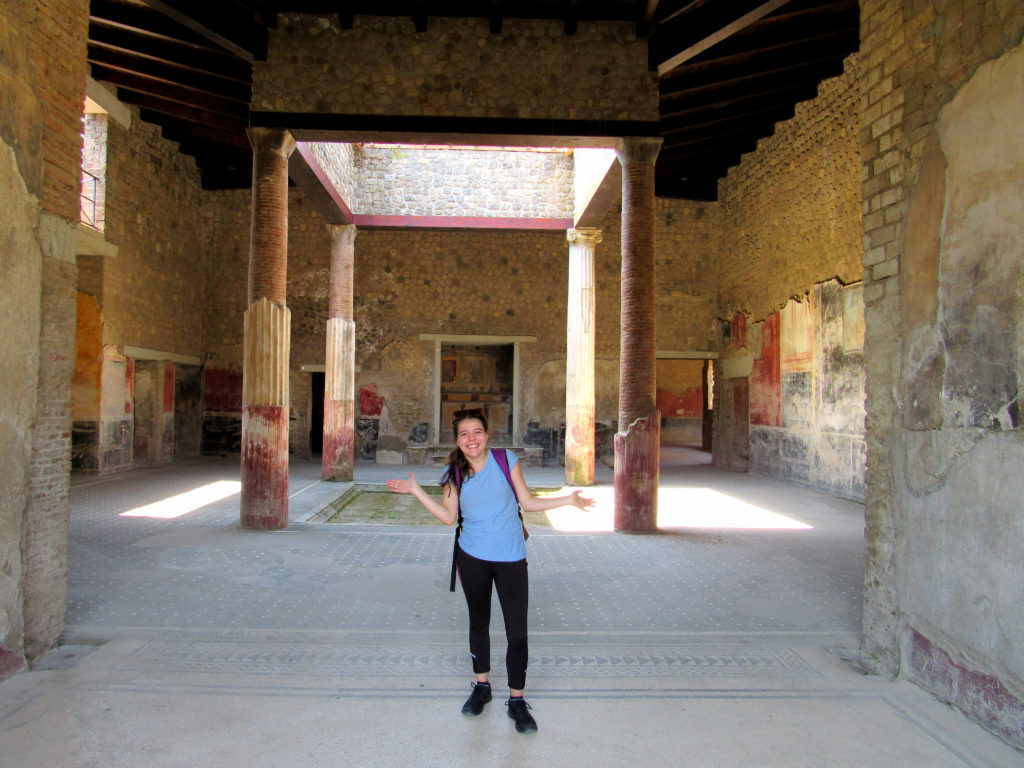 In a desolate street outside Castellammare, a green sign points the adventurous traveler to the Villa San Marco, a residential mansion built in the Augustan age of ancient Rome. Part of an important seaside town called Stabiae, the ruins were buried by the eruption of Mount Vesuvius in 79 A.D., best known for destroying Pompeii and Herculaneum.
Discovered first by the Bourbon dynasty between 1750-1754, and again in the 1950s, Villa San Marco is one of the most extensively excavated sites of Stabiae. Well-preserved by ash and pumice debris for centuries, its existence is a standing revelation of how the wealthy Roman once lived in ancient times. Yet, despite such lofty descriptions, the Villa San Marco is largely unknown to 420 million tourists traveling through Italy each year. It doesn't appear in brochures or tourist manuals of the area.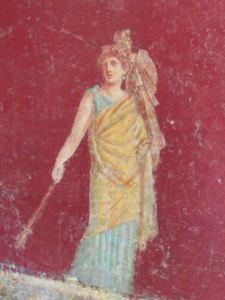 Perhaps the remote location is to blame. For the average English-speaking visitor, getting there isn't easy. Travelers need to know the train system and the Italian language, since Google maps is useless if you choose to go without an international phone plan. But if you're willing to risk getting lost to find it, you will be rewarded with a uniquely intimate experience of seeing this ancient mansion almost like it was first discovered.
In many of the rooms, ancient frescoes are faded, but in surprisingly good condition. Birds, ducks, and other wildlife appear along the walls, the brushstrokes like watercolor paintings. Because there are no windows, wildlife was often painted on the walls to make residents feel close to nature.
Wildlife isn't the only thing painted on the walls. Some of the original frescoes, crudely cut out of the walls for King Charles of Bourbon's personal collection, have been recreated for contemporary visitors. You can view the originals in the archaeological museum in Naples. Other originals, such as a woman coyly looking at the viewer as she's discovered naked remain intact. Images of victory, home, and the big city are also painted on the walls, reminding the viewer of the nobleman's place in the ancient world.
Besides the delicately painted frescoes, other things demonstrate the wealth of the nobleman. Three separate baths can be found throughout the property, including a large one complete with ancient plumbing. There is also a large kitchen still intact, where slaves would cook meals for residents and guests.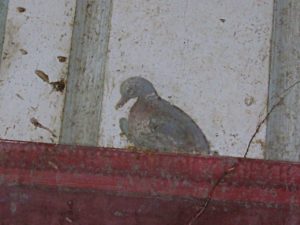 As you look further through the villa, you will find a large gym, where young males would practice fitness in the nude for warfare. Outside, there is a large swimming pool in the meticulously kept garden. Here you can see some of the ancient trees, preserved and replanted to look like the grounds did during its prime.
On the outskirts of the property, one can see Mount Vesuvius. Today, while apartments obstruct some of the view, in ancient times this villa was in the countryside and featured a view of the sea and Mount Vesuvius. One can only imagine what it must have been like to see the disaster looming.
The Villa San Marco, along with the Villa Arianna close by, are the only extensively excavated sites in Stabia. The rest of the town remains largely unexcavated, due to illegal building and lack of interest. The Restoring Ancient Stabiae Foundation has been fighting to unearth the rest of Stabiae to learn more about Roman history of this area. Once unearthed, the foundation seeks to make the Villa San Marco, along with Stabia itself, a tourist destination. As for me, there is a certain beauty in finding something largely undiscovered by the general public.
HOW TO GET THERE (courtesy of Google Maps)
Before you go, be sure to have a hat, sunscreen, water, and pack a lunch. It will be a hike.
Take the Circumsuviana train on the Sorrento-Napoli route, and stop at Castellammare.
Once you arrive, go up the road to Via Regina Margherita. Turn right.
Look for Di Capua Francesco. Turn right onto Via Europa.
Turn left onto Str. Varano.
Turn left on Passeggiata Archaeologica. Go up this road for a while.
Turn left on the road, where the green street sign for the Villa San Marco should be visible.
The site is free entry.
You can visit this beautiful villa as part of your semester abroad at the Sant'Anna institute to be a student. Applications for Spring 2020 currently being accepted. Find out more at: www.santannainstitute.com/application-procedure/.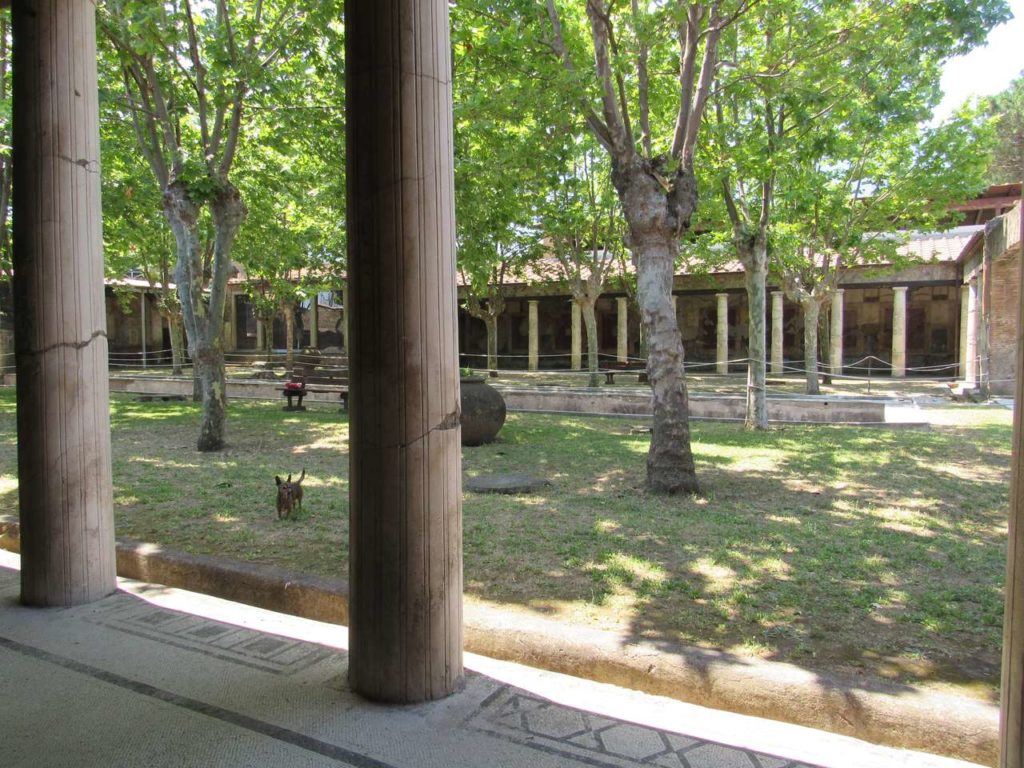 Sources
1. "Villa San Marco." Pompeiisites.org. 31 May 2018. Accessed 8 July 2019. www.pompeiisites.org/en/stabiae-en-2/villa-san-marco/
2. "History of Excavations." Pompeiisites.org. Accessed 9 July 2019. www.pompeiisites.org/stabiae/storia-degli-scavi/
3. "Record numbers of tourists are arriving in Italy, study shows." The Local, Italy. 28 November    2018. Accessed 9 July 2019. https://www.thelocal.it/20181128/record-numbers-of-tourists-are-arriving-in-italy-study-shows
4. Museo Archeologico Nazionale di Napoli. Ministero Per I Beni e La Attività Culturali, 2016,             https://www.museoarcheologiconapoli.it/en/. Accessed 9 July 2019.
5. Cartwright, Mark. "Gymnasium." Ancient History Encyclopedia. Ancient History Encyclopedia, 09 May 2016. www.ancient.eu/Gymnasium/. Accessed 9 July 2019.
6. Restoring Ancient Stabiae. Vesuvian Institute. http://www.stabiae.org/foundation/. Accessed 9 July 2019.