"L'arte di arrangiarsi", The Experience of an Italian American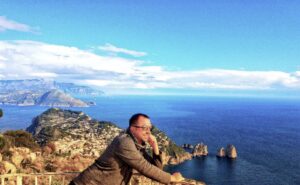 As an Italian American from North Dakota, I quickly attached deeply to the Italian part of my identity, and it became the core of what guided my hobbies, my career, my citizenship, and me ending up choosing to move to Italy long-term.
Grandma Teresa, the source of my Italian roots, passed away when I was 4 and this only increased my permanent curiosity in this beautiful land, language, and culture.  I hope she can see me now, living in her own city of origin, Napoli!
Living as an Italian-American is fun in North Dakota, because we were rare in that part of the country.  And worldwide, there are no two countries more in love with each other than the US and Italy.
I became very determined by my longing for connection to Italy, and at 16 made a strong determination that learning Italian and being in Italy a lot was a main goal.
In 1997, as a freshman in college, I started a self-taught language intensive that led me to spend a year in Padova that inspired my 19-year continuing career in International Education, sending US students to study in Italy and all over the world.  In 2003 I obtained my Italian citizenship, and now, 18 years later I am working as International Relations Manager at Sant'Anna Institute in my favorite place in the world, the Bay of Naples!
Being an American-Italian in Italy is fun if you have a heart to learn and be flexible and patient and LOVE LIFE!  There in Southern Italy there is something very prevalent and real called "L'Arte di Arrangiarsi," which refers to the art of making it work for you….It takes resiliency to move anywhere, and especially in a country with its own challenges and existing in your second language.
My study abroad in Italy 20 years ago was truly an effective preparation that has made moving here permanently much more joyful and helped me with any adjustment frustrations, from bureaucracy to missing things I left behind in my beloved Midwest home.  I am so glad being Italian-American opened the door I decided to jump through to become an American Italian!
Life is a beautiful dance of determination, negotiation and choices of location….this is  "L'Arte di Arrangiarsi!"
Michael Nelson
University Relation Manager