Discovering Italian Culture with the Italian Club
by Mia Walsh, Ohio University through CIS Abroad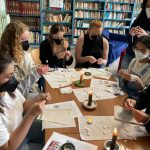 One of the most beautiful parts of studying abroad is being able to immerse yourself into another culture and way of life for a few months. Holidays that are widely celebrated in the United States, like halloween, are not as popular here. Inversely, holidays that are highly commercialized in the United States can be very reverent. One of these holidays is the Celebration of Easter!
Easter in Italy
Easter, or Pasqua, is wildest known as a holiday for baskets, eggs, and bunnies. In Italy, Easter is celebrated by the large Roman Catholic population here. In southern Italy especially, this is a very holy season. Many shops and restaurants will close early the Friday before Easter in observance of Good Friday. Similarly, many shops and restaurants could be closed the Monday following Easter as that is a national holiday as well.
Easter in Sorrento
If you are looking for a truly unique and local experience for Easter, Sorrento is the place to be! Two weeks before Easter, people will make candy palm trees to celebrate Palm Sunday. These sugar coated creations are only made in Sorrento and its local towns. We made them at Sant'Anna with the Italian Club! It was so much fun.
Another important part of Easter in Sorrento is the Holy Week Procession. The Procession, or parade, is an ancient tradition few towns in Italy do anymore. It takes place on the Wednesday, Thursday, and Friday of Holy Week throughout the streets of Sorrento and down our main street to the church. Processioners hide their faces in white garments, sing holy songs, and carry objects to represent the Passion of the Christ. People from all over the world come to witness these processions.
Getting Involved 
While culture shock is natural when studying abroad, one way to get over that shock is to get involved in that culture! I joined the Italian Club and became the president. Through this, Ive been able to help learn and organize events like making candy palms, and celebrating the Sant'Antonino Festival. I highly highly encourage you all to look into the clubs Sant'Anna has to offer and to celebrate Italian culture and holidays.