5 ways to travel from Sorrento on a budget
By Olivia Romano, Elon University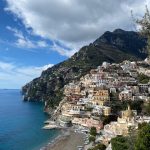 Is exploring different cities a part of your study abroad dream? It was definitely a part of mine! Traveling to other areas of Italy and popular destinations across Europe is one exciting aspect of studying in Sorrento. However, expenses can add up quickly. Here are some suggestions from my experience on how to travel from Sorrento on a budget.
Take public transportation
Take advantage of public transportation, such as buses and trains. Not only are they cheaper, but they also take you directly to city centers and popular destinations. The Circumvesuviana train line runs between Sorrento and Naples for only 3.90 euros, and high speed trains connect cities all across Italy. You could travel from Sorrento to Rome in just a few hours! You can board a bus at the Sorrento train station to visit Positano or Amalfi for just a few euros as well, and another bus drives directly from the train station in Sorrento to the Naples airport for 10 euros. So many options!
Be flexible
Instead of booking transportation because of ideal times or more leg room, research alternatives. Being flexible with departure times, amount of hours spent traveling, and airlines allows you to discover cheaper options. Many students choose to fly on airlines such as Ryanair or Wizz Air because of the low cost, even if the departure time is different from when students originally planned to leave Sorrento. When was the last time you booked a roundtrip flight for 10 euros?
Have cash on hand
Some local cafes and shops may only accept cash, so it is always a good idea to have cash euros or the local currency available. Paying with cash also saves you from being charged the foreign transaction fees on cards determined by individual banks. Why pay for fees when you can get a "free" espresso instead?
Discover underrated destinations
Many of the popular tourist destinations can be more expensive. Instead of following the crowd, discover lesser-known locations. You can often find quieter and cheaper destinations just as beautiful as the touristy spots. The locals are always very welcoming and excited to meet travelers too! Exploring these areas is one of the best ways to experience the culture. A couple of beautiful places to visit in Italy are Positano and Cinque Terre. The coastline and colorful buildings are unforgettable.
Travel with friends
Traveling with friends saves on costs and stress when you work together to pay and overcome traveling challenges. You can split transportation costs, activity fees, and weekend housing for a cheaper trip. Working together also relieves the stress of getting lost or translating foreign languages. Traveling with others is a great way to get to know more people in your program. You could meet lifelong friends!
These are just a handful of tips to cost-effective travel, but there are plenty of ways to keep track of a budget while exploring new destinations. Everybody is in the same boat of wanting to travel and make friends, so I've found that communicating with my peers about travel plans and strategies I am using to make my experience the best it can be is the perfect way to learn from each other and meet new people. I especially enjoy traveling around Italy because there are many unique cultures and locations, even within the same country. No matter where you travel and how you get there, you will gain knowledge and memories to last a lifetime.