Building future careers – Naples Consul visit to Sant'Anna and its 100 American students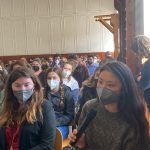 Mi chiamo Jess e sono una studentessa; sto studiando commercio internazionale e italiano.
My name is Jess and I'm a student studying International Business and Italian at St. Louis University.
When I heard that Consul Schinnerer, a Consul of Press and Culture, was coming to our institute to speak, I didn't know what to expect. However, this opportunity to hear from Mayor Coppola and Consul Schinnerer was way more rewarding than I could've expected.
One thing that I have noticed very consistently from the people of Sorrento, is that they have an extreme loyalty to their town. This is reflected by Mayor Coppola, who is similar to many of the Sorrentino people: he was born here, raised here, and has lived here his entire life. He shows an extreme commitment and loyalty to his town and the strong desire to constantly seek growth in all aspects. He reflects the welcoming nature of all of the Sorrentine people, and is truly an embodiment of the kindness and hospitality of the town.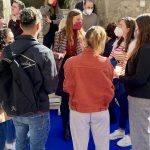 Secondly, Consol Schinnerer was an inspiring person to listen to. Having studied Spanish and Latin American studies, having lived in the Philippines, Brazil, the US, India, and Italy, among other places, she showed us a few truths about our future lives and careers. Firstly, careers are never linear. She began the phone idea of what she wanted to do and where she wanted to do it, but other opportunities arose that brought her to an unbelievably rewarding life. As a student who has yet to find her passion, it was very comforting to hear about her journey. Throughout high school and when I first started college, I considered the possibility of being a foreign service officer but I never knew how to get there or exactly what this meant. However, hearing from Consul Schinnerer, I learned that there is a wide variety of opportunities and positions in foreign service that all come with merits and downfalls, but nonetheless, allow you to grow your career and develop your personal and professional persona.
This opportunity to hear from these two inspiring people, made possible by The Sant'Anna Institute, reflects how dedicated they are to the growth of their students. As Consul Schinnerer said, we are now ambassadors of this town and of this institute. I feel a strong connection to Sorrento and believe that this is one of the most life-changing experiences I will have. Moving forward, I know I'll be a strong advocate for study abroad in general, and especially for this town.
Jessica Watson – St. Louis Univeristy