My internship outside of the classroom at marine protected area of Punta Campanella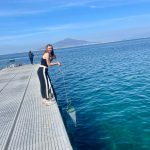 by Audrey Kwentus, OSU
For my internship, I am partnered with the Marine Protected Area of Punta Campanella with a specific focus on designing a marketing campaign with the objective to promote the MPA and its network on an international scale. I also execute the campaign mentioned above into products for public outreach, which may be in various forms, such as brochures, activities for children, blog & social media posts
I created a presentation for the MPA to demonstrate the differences and similarities between the U.S. and Italy when it comes to Marine Conservation. The issue of protecting the environment is universal and while building the presentation I gained a deeper insight into the terminology and history of conservation between the U.S and Italy. It was a nice way to work with my supervisor on a relaxed project as we learned what each-other's expectations were and became friends through lots of teamwork.
I presented to Project M.A.R.E (Marine Adventures Respecting Environment), a collection of international volunteers who support the marine park through on-site work such as monitoring activity, and data collection as well as spreading information and awareness. It was intimidating to speak to such a cool group and my supervisor translated to avoid a communication barrier.
The goal was to teach about how U.S. conservation operates, and I chose to focus on an MPA specifically located near my home. We were able to create unique connection while they learned about where I live in a way that also taught about conservation. My project will be used by the MPA for future use which is a proud accomplishment that I can further the MPA's outreach and provide further awareness about conservation.
You can look at the project here.