Meet Veda Skog, our Intern at Circolo Nautico Arcobaleno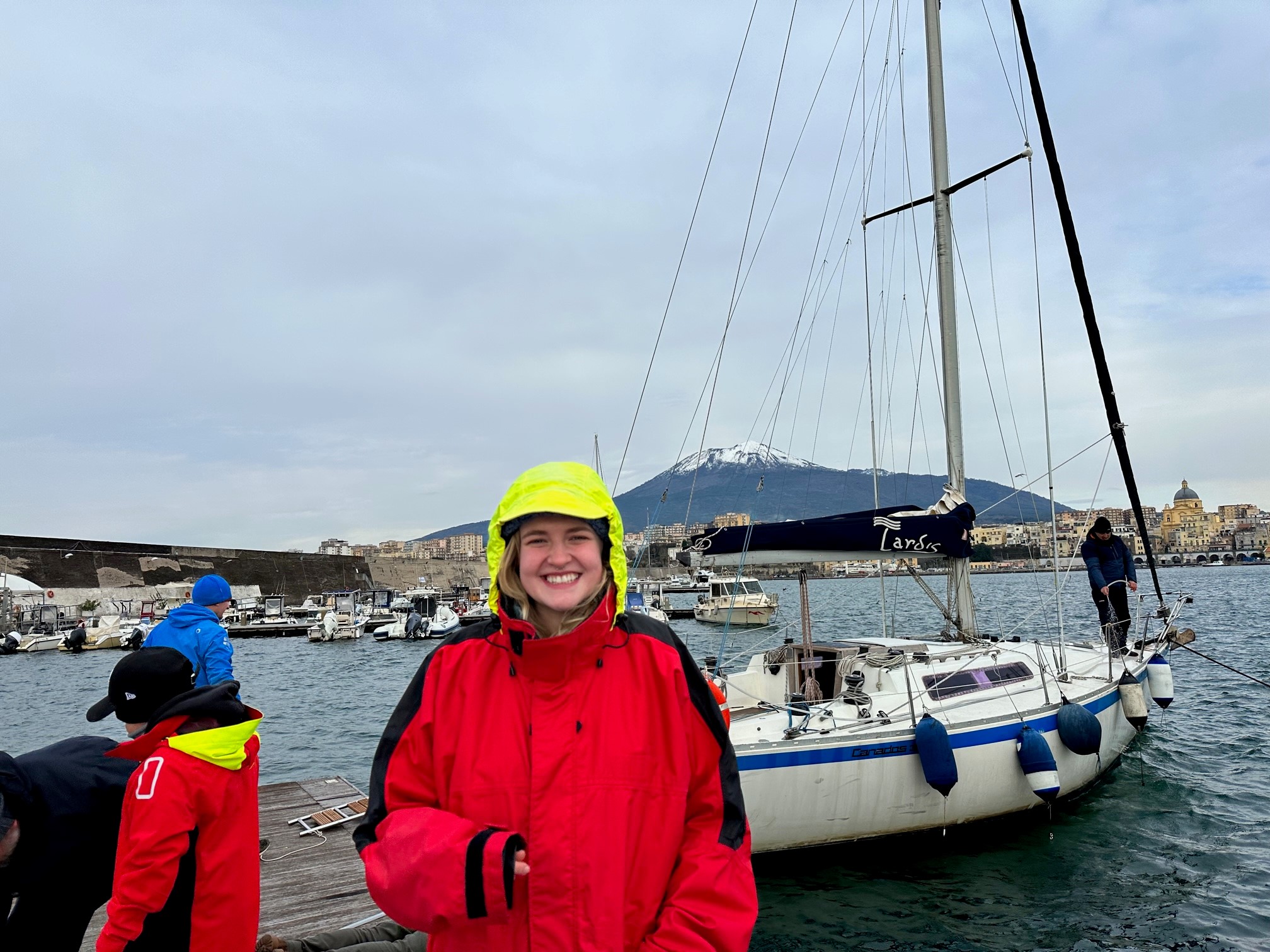 Hello everyone! My name is Veda Skog and I go to Elon University where I major in Strategic Communications and Outdoor Education and Leadership with a minor in Leadership Studies. I participated in the Sant' Anna Internship program during Spring 2023 and I was placed at the sailing school, Circolo Nautico Arcobaleno Torre Annunziata. There are two parts of Circolo Nautico Arcobaleno: the sailing school that teaches local elementary students how to sail and the sailing lessons where athletes practice for sailing competitions with coaches. The sailing lessons use single sail boats, the Laser and the Optimist, and the sailing school has everybody on one big sailboat.
Given that I had no previous sailing experience, at first the nature of my internship was to sha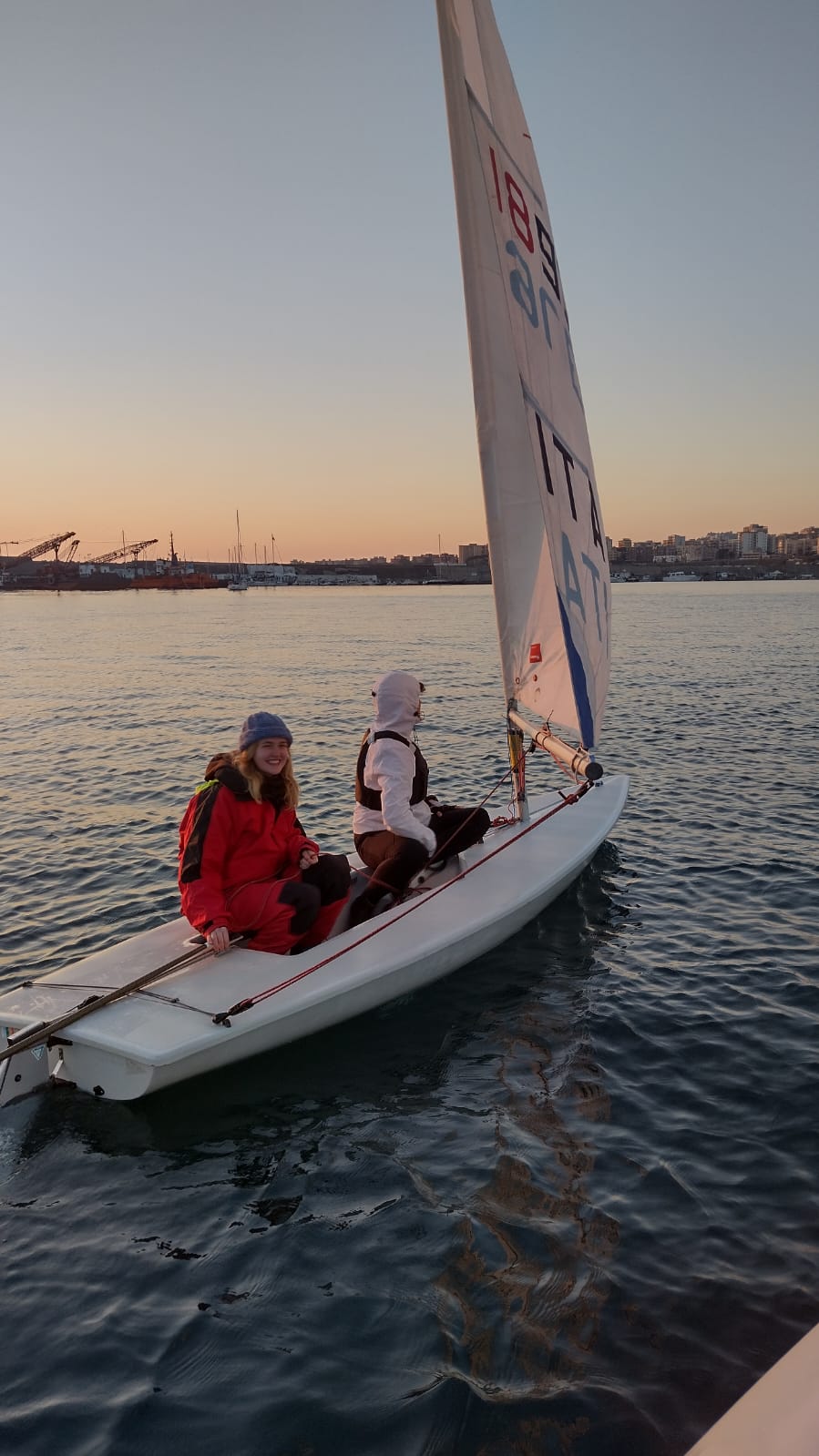 dow the coaches. This usually looked like the coaches explaining things to the students in Italian and then to me in English. I primarily worked with Ida and Maurizio who were always willing to explain to me what they were doing and why. However, I learned from everyone around me, including the students because of the warm welcoming I had received from everybody at the school. A typical day at Circolo Nautico Arcobaleno started with me taking the train in and getting picked up at the station to go to the sailing school at the port. We then prepared the boats and then went sailing near the port.
The second half of the semester I primarily focused on my final project. This included an interactive sailing boat diagram for beginners and a guide that focused on the steps of the tacking maneuver for both single athletes and with a crew. The project integrated both English and Italian. I really enjoyed and appreciated working on this throughout the semester because it was a way for me to learn about sailing while not on the boat and a helpful resource for Circolo Nautico Arcobaleno.
I went into this professional immersive environment knowing very little Italian and knowledge about the culture. But I did have one crucial characteristic for an international internship, an open mind. Due to this, I learned a lot based on my observation and non verbal communication skills in order to help where necessary. For instance, during preparation of the boats, everyone would usually be talking in Italian so I had to pay attention to what tasks needed to be done based on my intuition. This is something that made me feel a bit uncomfortable at first because I didn't fully understand what was going on around me. However, I think feeling uncomfortable in a new work environment is very common when you first adjust and now that I have already done that, I feel more prepared to enter the work environment elsewhere.
Another skill that I grew and had to heavily rely on during the internship was my self accountability. Due to the nature of the internship, there were multiple times when I planned to go to the sailing school but then couldn't because the weather conditions were poor for sailing. This led me to do a lot of self study work and focus on the deliverables for my final project. Additionally, it was mainly up to me to ensure that I was on track to reach the expected amount of hours and plan it out ahead of time. This meant that I was in constant communication with my supervisor to discuss the next week.
I also learned that it is okay to not be the smartest person in the room. In fact, you can learn way more when you aren't. For instance, I was at the same sailing skill level as some of the young students that came to the school and I learned from them. It was difficult to communicate with them at first because they were beginners at English and I was a beginner at Italian. However, through chopped up vocabulary and Google Translate, we were able to communicate. These types of interactions made my global perspective grow immensely.
Some advice that I would give to other interns participating in the program is to understand that it is a learning process. It is likely that as an intern you will feel uncomfortable at first because of all the changing factors of your environment. However, lean into it and give yourself some grace. Remember, "Rome wasn't built overnight." It will take time.
I would also advise interns to practice self advocacy. Everyone goes into the internship program hoping to achieve different professional goals. In order for these goals to be reached, it is up to the intern to communicate with their supervisor. For example, my main goal was to learn how to sail. I addressed this from the beginning and geared my final project on the technical skill of the tacking sailing maneuver. Like any internship, it will be frustrating for both parties if your goals aren't communicated and fulfilled.
Overall, I had a very positive experience at Circolo Nautico Arcobaleno. This was because of the people I got to work with and the effort I put into the program. It was a very fulfilling experience where I could grow my sailing, flexibility and nonverbal communication skills. In short, my international internship opened gateways to personal and professional growth, and enabled me to gain a diverse and invaluable perspective that will serve me for a lifetime.