Professor Highlight: Marco Aterrano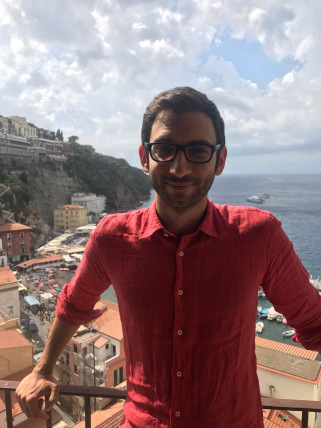 When students are interested in taking classes abroad various questions arise such as "what if the teacher is hard?", "how much experience do I need for the class?", and "how much work is included in this course?". Well, here at Sant'Anna Institute we've got your back. We've taken it upon ourselves to interview some of our staff and dig around on what is included and expected when you sign up for one of their courses. First on the interview list was beloved History professor Marco Maria Aterrano. Marco has a Ph.D. in History of European Society and a M.A. in Modern History from the University of Naples. At Sant'Anna he teaches History of the Mafia: Origins and International Scope, History of Contemporary Italy, and Mediterranean Culture and History.
Our first question for Marco was to describe his teaching style. Marco tries to give several perspectives to a single topic. He finds it more effective to not only teach and lecture but to make sure students understand that there are various sources and standpoints that they can draw from. He believes that it is his job to shock you, as you did not come to Sant'Anna to be comfortable but to be challenged. While he plays devil's advocate frequently he just as commonly lightens the mood by making cheesy jokes; a style that is not always appreciated by his students. Marco encourages open debate in his class; however, these debates must follow a respectful exchange that leads to someone, perhaps himself, being the counterpoint (even if he agrees with your original stance. Again, the devil's advocate is at work, people).
Dr. Aterrano then opened up about some of the favorite parts of his job and why. Marco relayed that he studied in the US for a number of years and this allowed him to gain various cultural outlooks. In his current position here at Sant'Anna he teaches three classes. His favorite part is how he gets to talk about underrated topics and watching his students learn something completely foreign to them. He appreciates the different cultural backgrounds that arise in his classes. This leads to similar arguments forming from differing viewpoints. Nevertheless, he finds it most exciting when he comes in contact with a different perspective on something he has already studied as "a fresh eye is always useful to understand oneself".
You may be asking yourself, "why did Marco go into teaching?". Well, he didn't, originally. He was in the world of academia due to his interest in archival research and writing but he never suspected that he would like teaching. Marco began teaching for Sant'Anna in January and realized that it was more exciting and creative than he thought. He acknowledges that although he can be a rough grader, he loves interacting and teaching his students. One of his consistent courses, History of the Mafia, was the center of our questions. For example, does Marco emphasize certain timelines in Mafia history more than others? Is the past more important than the present? Marco had some thoughts. He believes that the mafia's past and present intertwine. He urges his students to think past the terms "history" and "present" and instead to link everything and tie them together so you can find a significant correlation. In the professor's words, "all past history is present, otherwise there is no point in studying the past. Every history is a contemporary history".
Wise words from a young academic, right? Well, when asked about his greatest career accomplishments he admitted, after specifying that he was "still kicking'", that he has written and published a book. "Mediterranean First" was published last year after it developed from his doctoral dissertation. The work took an overall six years to complete all while Marco published various other articles and journals. Prospective students need not question the professionalism of Sant'Anna staff- they're as dedicated as they come.
As any good teacher may anticipate, some students feel uneasy in open debate and may be quieter. When posed with the idea that students may be afraid to participate Marco stressed the need to try and go beyond the conventional idea of something. He needs students to enter debate freely and without barriers or fear of offending someone. This way they go beyond the fact that their understanding is something that should be limited. Mr. Aterrano stresses that one should open their viewpoints, rather than changing them, thus increasing understanding and gathering respect for various perspectives. Marco encourages the growth of knowledge as "regulating language regulates thought and this is a perceived danger zone".
Nearing the end of the interview I persuaded Marco to leave some tips or insight to any perspective students thinking about taking his class. He wished to add that potential students could look forward to multiple field trips throughout his various classes. These excursions allow different sides of history to be seen, a common theme accentuated throughout his lectures. Through these trips students can see with their own eyes what is going on and where events took place. He wants students to know that he takes a multidisciplinary approach that allows the class to become complex and consist of a fuller picture. He believes that the access to cultural references allows for a broader understanding on complex issues.
If you'd like to learn more about Marco and his teaching methods…well, you'll just have to come to Sant'Anna Institute, won't you?