Theme: Representation, Resilience, and Renewal
Download Symposium Program here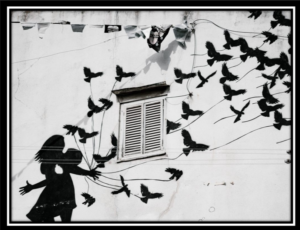 Sant'Anna Institute is honored to partner with Wake Forest University in organizing its annual student research symposium on gender and sexuality (March 19th, 2021, 9:00 am-3:00 pm ET), featuring moderated virtual sessions of scholarly and creative presentations by graduate and undergraduate students. Taking advantage of the generally broad access to digital platforms, the symposium will enjoy the benefit of global collaborations. Undergraduate and graduate students from American and international institutions are invited to virtually attend and participate in this symposium in order to showcase the exciting work that they are doing on gender-related issues across disciplines.
This year's theme of "Representation, Resilience, and Renewal" has the aim of building new and shared understandings across geographies to reflect on where the feminist debate across disciplines and the arts is positioned today and which future direction it will take. The idea of representation addresses a wide spectrum, from the political to the ethical, from freedom of speech to media representation, and is particularly relevant today in the aftermath of the consequential U.S. election, where citizens performed important political actions. The past year, a leap year, has been a dark year for a wealth of reasons connected to ecological, economic, political, social, and health-related upheavals, with discriminating displays of law enforcement and a woeful amount of deaths due to the rapid spread of the coronavirus pandemic worldwide. The COVID-19 pandemic has exacerbated nearly every kind of social injustice. It has exposed many of the inequalities that shape the life and death conditions of people around the world. It demonstrated, quite graphically, that even in the context of a virus that spreads regardless of one's identity, human-made systems are at the heart of whose lives matter and whose can be discarded. But it isn't all doom and gloom: feminist and racial solidarity and resilience are pivotal in times of crises. The pandemic provided the occasion to struggle and organize worldwide.
Working at the intersection between social justice, international development, and personal development revealed to be a necessary strategy to show how transformative practices rooted in social justice worldviews can help sustain and support feminist ideals that will lead to much sought-for change. At a collective and organizational level, these practices also have potential to help transform reality in line with feminist commitments to collective action, reflexivity, equity, and justice. Reforms, however, are not enough for justice; we must change and renew our whole way of life. New models of innovative action are necessary and have emerged in various places across the world, though they largely remain in the shadows. A new, transformative action or work of care represents the possibility of a communal and better future. It must not only be made visible, but also redistributed and decolonized.
Such reflections are only a handful of ideas for possible directions students might take as they interpret this year's theme. Proposals involving virtual presentations in the form of poster sessions, creative exhibits, performances, video clips, and other new formats are encouraged. Presentations conducted on Zoom may vary in length but should not exceed 10 minutes (plus five minutes for discussion).
Participation is free of charge and open to students of all nationalities.
Contact email for the organizing committee:
Wanda Balzano: balzanow@wfu.edu
Shannon Gilreath: gilreasd@wfu.edu
Marco Marino: marco.marino@santannainstitute.com