In Novermber 2021, we celebrated the annual global event: International Education Week with a week full of activities to encourage students to engage in and reflect on the many benefits of their international experiences.
The week's events were very well attended and were successful in their goal to get students excited and interact in this global celebration. Below is the schedule of events that were hosted and how students were involved in each, both onsite and online.
IEW Student Committee: Student ambassadors volunteered to participate in organizing the week's events, and divided themselves into groups, each in charge of preparing one of the week's events: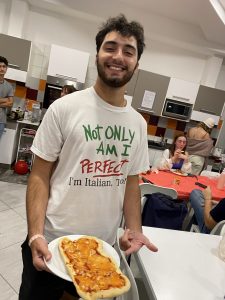 International Spirit Day: Students and staff encouraged to wear clothing and accessories representing their origins. Creativity and virtual participation was encouraged.
No Waste Pizza Night: Using their leftovers, students invented their own pizza flavors and baked them fresh in the Sant'Anna Residence Hall community kitchen. Our Instagram network was invited to vote for their favorite creation!
LEaDing Students to Success Webinar with Special Guest Speakers: Fall semester student interns were highlighted with video reflections they created on the development topics they had discussed thus far in the program. Special guest speakers, Olympic Gold Medalist, Katie Nageotte, and Sant'Anna alum and Italian-American social entrepreneur, Caroline Caporossi, were invited to share their inspiring stories of reaching success through challenges.  The goal of the event overall being to share these topics and strategies with both students and educators with the aim of empowering the skill sets that students develop during their international education experiences. You can check out highlights from the event here.
Scavanger Hunt: Centered on clues from their Sant'Anna courses, like History of the Mafia, Volcanology, and Food Marketing, student teams explored the many facets of Sorrento to
compete for a grand prize.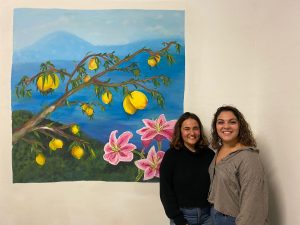 Panel Night: Starting with a trivia game on the study abroad journeys of Sant'Anna professors and staff, participants learned more about various international education experiences and heard stories from the professors and staff themselves. The night concluded with a round of picking reflection questions from a hat that answered about their current experience in Sorrento.
Student Lounge Mural: During the week, two of our artistic students were invited to paint a mural in the school's entrance in order to commemorate this special week. Their work was revealed live on Instagram at the last event of the week.