November 16th – 12pm ET
Click HERE to register
The Sant'Anna Institute International Internship Program is proud to present the LEaDing Students to Success Webinar, where we will discuss our program's strategies on guiding students on confronting challenges, being empowered by adversity, and turning it into a benefit of their experiences.
We will have two special guest speakers: Katie Nageotte, Gold Medalist for the Women's Pole Vault in the Summer 2020 Olympics as well as Caroline Caporossi, a Sant'Anna alum who is the Founder and President of The Association for the Integration of Women in Modena. Both women will share their success stories, in particular how they navigate challenges in both professional and intercultural settings.
TOPICS:
How to set SMART GOALS
• Increasing SELF-AWARENESS
• Effective COMMUNICATION STYLES
• Giving & Receiving FEEDBACK
• Valuing CULTURAL AWARENESS
• Stages of TEAMWORK
• PERSONAL BRANDING & how to highlight your SKILLS (creating a personal E-PORTFOLIO)
Please email Internship Coordinator, Emily Hammeren at emily.hammeren@santannainstitute.com for information to join.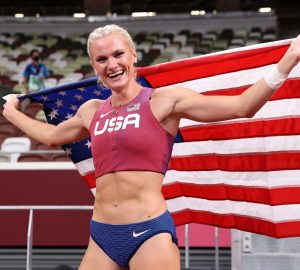 Kathryn Nageotte is a 30 year-old American pole vaulter, originally from Cleveland, Ohio. She graduated from Olmsted Falls High School with a state record in pole vault and was also the 2009 Division I state champion. During her studies at Ashland University, she studied Fashion abroad in Paris as well as won the NCAA Division II national championship. While at the University of Dayton she also took gold at the indoor and outdoor Atlantic 10 Conferences. After officially turning professional in 2013, she has competed around the world and was signed by Adidas 2016-2018 and by Nike since 2018. This year she won the gold medal in women's pole vault at the 2020 Summer Olympics.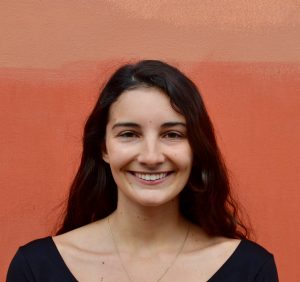 Caroline Caporossi is a 27-year old Italian-American social entrepreneur and founder of the Association for the Integration of Women (AIW), a non-profit organization dedicated to migrant womens' integration in Modena, Italy. Caroline grew up in a third-generation Italian immigrant household in the United States. At University she specialized in International Relations and Spanish, and she began her career advocating to increase services for the Latino community in Washington D.C and South Carolina. Upon graduation in 2016, she relocated to Modena, Italy where for the last three years she has served as the Program Development Officer at Food for Soul, the international nonprofit founded by Chef Massimo Bottura. In April 2020, after having witnessed the extreme need for economic integration services for migrant women in her community, Caroline founded the AIW, and currently is dedicated to launching a unique food-based integration model as a long-term solution.
Click HERE to register