Please download Symposium Program here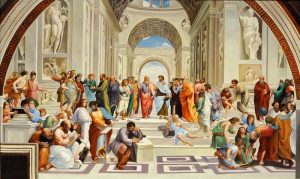 Sant'Anna Institute is pleased to host its first virtual symposium for undergraduate students(April 14th, 2022).
The Symposium was born from the need to make students protagonists, by making their research available to a wider audience, using new technologies that have became very popular during the COVID pandemic.
For this reason the Symposium has the dual objective of allowing talented and motivated students to put their research skills into practice in an international context as well as present the results of their studies to colleagues and faculty from other universities, all while encouraging interdisciplinary discussion and academic exchanges.
The Symposium will take place in collaboration with several of Sant'Anna's Study Abroad partner universities.
The following areas of study are of interest to the Symposium:
-Art and Design
-Classical Studies
-Cinema Studies
-Cultural Studies
-European Literature
-Italian Studies
-Mediterranean, African, and Asian Studies
-Political and Social Sciences
-Sustainability and Environmental Studies
-International Internships and Service Learning projects
The Symposium will be organized into 90-minute thematic sessions, moderated by a faculty member from Sant'Anna or from one of its partner universities, including a final discussion.
It is possible to present in Italian or English and by using different formats, including ppt or Prezi presentations, recorded videos or video-essays, etc.
Undergraduate students (2nd, 3rd or 4th year) or recent 2021 graduates are eligible to participate.
A minimum cumulative GPA of 3.0 (on a 4-point scale) is required (for students with a GPA below 3.0, a reference letter from a professor supporting the student's candidature will be required).
Honors students are especially encouraged to participate. (There will be specific sessions dedicated to Honors students).
Students interested in participating can write to Marco Marino, Vice President of Academic Affairs at Sant'Anna Institute, at marco.marino@santannainstitute.com by March 20, 2022, including:
a short bio
-Honors status (if any)
-name of home university
-a short presentation of their project (max. 300 words)
-name of the faculty mentor that the project was presented to
-preferred presentation format
The proposals may include research papers presented during the Spring 2022 or Fall 2021 semesters.
The proposals will be evaluated by a committee of faculty members from Sant'Anna and some of its partner universities.
The committee also welcomes the submission of complete panels, consisting of three papers.
Students will receive confirmation of their acceptance by March 25, 2022.
For any further inquiries please refer to Marco Marino at marco.marino@santannainstitute.com