Dear Colleagues,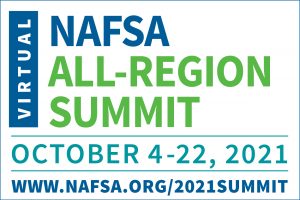 We are pleased to announce our presence at the online NAFSA All-Region Summit from October 4th to October 22nd. You can also check out a sneak peak of our Sponsor Booth, which will be live starting today (September 27th): www.nafsa.org/2021summit
We invite you to visit our booth to discover more about our programs and chat with our staff!
We will have the following Dedicated Sponsor Hours, when our staff will be sharing some highlights of the engaging study abroad experience at Sant'Anna Institute:
Monday, October 4th: 1-2pm EDT
Cultivating Community in Sorrento, Italy – Student Life Programming at Sant'Anna Institute
with Giorgia Del Santo, Student Life Coordinator, giorgia.delsanto@santannainstitute.com
Monday, October 4th: 6-7pm EDT
Campania as our Campus – the Unique Academic Site Visits at Sant'Anna Institute
with Marco Marino, Academic Director, marco.marino@santannainstitute.com
Friday, October 15th: 4-5pm EDT
100% Customization – Sant'Anna Institute's Expertise in Designing All-inclusive FLPs
with Serena Vacca, Study Abroad Coordinator, serena.vacca@santannainstitute.com
F

riday, October 22nd: 1-3pm EDT
LEaDing through Reflections: the International Internship Program Agenda at Sant'Anna Institute
with Emily Hammeren, Internship Coordinator, emily.hammeren@santannainstitute.com
If you would like to set up a specific time to speak with our Study Abroad Team, please contact us directly (emails above).
We look forward to meeting you at the Summit!
Best,
The Sant'Anna Institute Team