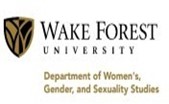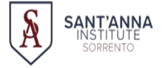 2023 Annual WFU Student Research Symposium
On Gender and Sexuality
 CALL FOR PAPERS
 No Turning Back:
The Future of Feminist Politics and Social Justice

DEADLINE FOR SUBMISSIONS: February 10th, 2023
 For the 11th year of the WFU annual student research symposium on gender and sexuality, Sant'Anna Institute is partnering with Wake Forest University (U.S.) and University of Georgia (U.S.) to organize a colloquium (on March 17th, 2023) that will feature moderated virtual sessions of scholarly and creative presentations by graduate and undergraduate students. Taking advantage of the generally wider access to digital platforms, the symposium will enjoy the benefit of international collaborations. Undergraduate and graduate students from institutions around the globe are invited to attend virtually and participate in this symposium to allow us to showcase the exciting work that they are undertaking on gender/sexuality-related issues across disciplines.
 This year's theme of "No Turning Back: The Future of Feminist Politics and Social Justice" was prompted by a series of shock waves produced by pressing social, political, and ethical questions that have entered our global lives and our local college campuses in the last few years. While the ravaging course of the Coronavirus pandemics and the fight against systemic racism are still ongoing, the overturning of Roe v. Wade has revoked the constitutional right to seek safe abortion care, disproportionately affecting the reproductive lives of American women. The successes of LGBTQ+ movements against intolerance and unfair treatment, harassment, and violence are under threat everywhere, and the urgency of women's rights in Iran has reached a critical point, as women demand to protest injustice without fear of reprisal. The human rights emergency due to the Russia-Ukraine war has resulted in an alarming increase in gender-based violence, transactional sex for food and survival, sexual exploitation, and human trafficking. Yet, as democratic systems are under a sustained assault globally, feminism has reached a critical momentum from which there is no turning back. While keeping up the fight for equality and justice, social movements are grappling with questions surrounding how to create and cultivate new systems of growth and care.
Our symposium intends to utilize the technological advancements of the worldwide web and create meaningful connections and exchanges, sharing the ways in which college students are strategically working at the intersection between social justice, international development, and personal development. A new, transformative action or work of care will enable the possibility of a communal and better future, which must not only be made visible, but also redistributed and decolonized.
 The above are only a handful of ideas for possible directions students might take as they interpret this year's theme. Proposals involving virtual presentations in the form of traditional papers, poster sessions, or short performances are encouraged, as are submissions of video clips, artwork, and other projects in new formats. A digital exhibition will feature the latter submissions. Presentations conducted on Zoom may vary in length but should not exceed 10 minutes (plus five minutes for discussion). We request that you send an abstract (not exceeding 200 words) and a short bio (specifying your status as undergraduate or graduate student) via Google Drive and "share" it with the organizing committee at research.symposium2023@gmail.com. Please name your document "[title of the presentation], Your Name)." Abstracts should include the student's name, the home institution, contact information, a tentative title, and the name of the professor with whom the student is working or has worked (if applicable).
Welcomes from the Organizing Committee
Wanda Balzano (Wake Forest University)
William Boyce (Wake Forest University)
Marco Marino (Sant'Anna Institute)
Patricia Richards (University of Georgia)
Jeff Solomon (Wake Forest University)
~ PROGRAM ~
9:00-9:30 AM EST – Opening Session
Introductory Remarks
LINK for attendees
Erin Adamson
(Associate Director for Leadership and Character in the Professional Schools, WFU)
Introduced by
William Boyce
(Faith and Health Fellow and Scholar at Wake Forest University School of Divinity)
9:30-10:30 AM EST – Session I
"Ethnographies of the Self: Deconstructing the Mirror and the Gaze"
? "Am I Good-looking enough?" : Masculinity Performances in Looksmaxing Communities
Matteo Botto (University of Genoa, Italy)
? Can Pleasure Activism Be a Solution to the Incel Crisis?
Gabriela Valencia (Wake Forest University)
? Authenticity in Art History: An Epistemic Consideration of Female Self-Portraiture
Rachel Lesinski (St. Louis University)
MODERATOR: Nathan Thomas (Wake Forest University)
10:45-11:45 AM EST – Concurrent Session I, Panel 1
"Reclaiming Language, Histories, and Wellbeing through Creative Care"
LINK for attendees
? Queering Care by Queering Data: A Mixed-Methods Analysis of LGBTQ+ Health Data
Production
Matt Heilman (University of Notre Dame)
? Audre Lorde: Speech, Speechlessness, and Autistic Cognition
Holly Thompson (Wake Forest University)
? RESTORE/RECLAIM: Navigating the Complexities of Purity Culture, Sexual Trauma, and
Spiritual Abuse
Geneva Hutchinson (University of Notre Dame)
MODERATOR: Naomi Jecker-Eshel (Wake Forest University)
10:45-11:45 AM EST – Concurrent Session I, Panel 2
"Beyond Tropes: Rejecting Stereotypes in Film and Music Videos"
LINK for attendees
? Female Rage, The Monstrous Feminine, and Abjection in Neil Marshall's The Descent
Jacqueline Bumgarner (Wake Forest University)
? American, but not too American: Asian American Parenthood and Beyond
Xiaoya Yang (Wake Forest University)
? Healing through Beyoncé's Use of Counter-Narrative in Lemonade
Gabriela Valencia (Wake Forest University)
MODERATOR: Ashley Davis (Wake Forest University)
<<< 11:45 AM EST-12:15 PM EST – Break >>>
12:15-1:15 PM EST – Concurrent Session II, Panel 1
"Feminist Resistance in the U.S. and Around the World"
LINK for attendees
? Understanding the Sex Exploitation of Black Women and Girls within Human Sex
Trafficking through a Black Feminist Lens
Kasandra Dodd (University of Georgia)
? Black South African Women's Opposition to Passes Under Apartheid
Jayne Flynn (Wake Forest University)
? A Genealogical Reading of "Jin, Jiyan, Azadi," or Women, Life, Freedom: Jîna Amini's Death
and the Role of Women in the Kurdish Liberation Movement
Ariella Patchen (University of California, Santa Cruz)
MODERATOR: Elizabeth Moore (Wake Forest University)
12:15-1:15 PM EST – Concurrent Session II, Panel 2
"Women's Leadership: Shaping the Future by Rewriting the Past"
LINK for attendees
? Southern Baptist Gender Politics and the Woman's Missionary Union
Zack Jackson (Wake Forest University)
? Hija de la Chingada: Visibility and Erasure of La Malinche in Contemporary Mexican
Discourse
Tania Del Moral (Wake Forest University)
MODERATOR: Charlie Kemper (Wake Forest University)
1:30-2:30 PM EST
"Advocating for Reproductive Freedom and Autonomy"
LINK for attendees
? Margaret Atwood's The Handmaid's Tale as an Ongoing Cultural Intervention
Grace Bromage (College of the Holy Cross)
? Hush A Bye Baby: What This Film Tells Us about Reproductive Rights
Ana Palazzi (Wake Forest University)
? Synthesizing Cultural Competency and Reproductive Justice: A Case Study of Afghan
Refugee Mothers
Roxanna Ray (Wake Forest University)
MODERATOR: Claudia Rafa (Wake Forest University)
2:45-3:00 PM EST – Closing Session
Endnote Presentation
No Going Back: Advancing Public Policies on Women's Reproductive Health
and Sexual Education in Brazil through the Lens of Bioethics
Angélica Antonechen Colombo
(Professor, Department of Philosophy, Instituto Federal do Paraná, Brazil)
Introduced by
Wanda Balzano
(Associate Professor, Department of Women's, Gender, and Sexuality Studies, WFU)
Concluding Remarks
? ? ?
~ The Feminist Art Shelf ~
LINK for viewers
The Feminist Art Shelf is a designated new space where conference attendees can
view and appreciate a collection of artwork that has been submitted by
participants in this student symposium. By creating a digital folder for art
submissions, the conference program seeks to promote creativity and inspire
discussion and appreciation of art among attendees and beyond. It provides an
opportunity for artists to gain exposure, connect with other like-minded
individuals, and receive feedback on their work.
The Feminist Art Shelf is partnering with Wakeville Arts Festival and will be open
to submissions for the whole month of March 2023.
Send your submissions to the organizing committee at
research.symposium2023@gmail.com
Acknowledgements
Special thanks to
Preston Neill, Multimedia and Information Systems, Wake Forest University
Dr. Cecilia Herles, Assistant Director, Institute for Women's Studies, University of Georgia