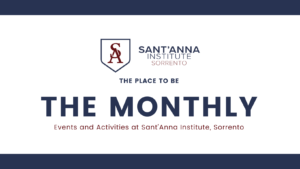 We are delighted to announce the release of our shiny e-newsletter The Monthly, featuring highlights from events, activities, courses, workshops, sessions and amazing opportunities happening monthly at Sant'Anna Institute in Sorrento.
We aim at increasing the fascination with studying abroad and communicate the unique experience and academic excellence from inside and outside the classroom, through the inspiring success stories of our dynamic people, students, faculty and alumni across the world.
Enjoy and feel free to share.
If you wish to receive our newsletter directly to your email, subscribe in the box below!