On the occasion of the Black History Month, Sant'Anna is pleased to invite all the members of its community to the lecture held by filmmaker and activist Fred Kuwornu
Blackness and Digital culture in the Italian and American societies
(February 22nd, 2021, 12 pm ET)
Click here to participate
In recent years social media have become the main platform where new artistic talents but also black activists are imposing themselves in Italian culture. This multimedia lecture explores the role of Black girls in Italy and their contribution in a variety of fields including the world-renowned Italian fashion and beauty industries, the role of Black artists in the music and entertainment industry. Social Media Entrepreneurship has emerged as an important strategy for Afro-Italians seeking to advance new narratives about Blackness and its inclusion within the material and symbolic boundaries of Italy. At the same time, Afro-Italian entrepreneurship is transforming Italian material culture, and, by extension, the meanings of Italianness itself.
Participation is free of charge and open to faculty and students.
For more details on how to participate please contact Marco Marino at marco.marino@santannainstitute.com
Short Bio 
Fred Kuwornu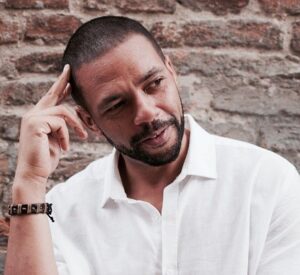 Fred Kudjo Kuwornu is a filmmaker activist-producer-educator, born and raised in Italy and based in Brooklyn. His mother is an Italian Jew, and his father is a Ghanaian surgeon who lived in Italy since the early 60's. Fred Kuwornu holds a Master of Arts in Political Science at the University of Bologna, Italy with a focus on sociology and mass communication studies.Kuwornu produced and directed the Award-winning documentary Inside Buffalo ("Best Documentary" at the Black Berlin International Cinema Festival). Inside Buffalo had viewings at the Pentagon, the Library of Congress and it received a letter of congratulations by President Barack Obama. In 2016, he released Blaxploitalian 100 Years of Black in Italian Cinema, a diasporic, hybrid, historical, critical, dimensional and cosmopolitan documentary about actors of African descent in Italian cinema. He is developing the project Blaq IT (the Black Italians Timeline). In 2020, he was the voice over for the Italian version of the Netflix educational show Bookmarks-Celebrating Black Voices. Kuwornu believes using film and other art forms are essential tools for building a more inclusive society. For more details on Fred Kuwornu's biography, please visit https://www.dotherightfilms.nyc/bio-fred-kuwornu.