How to teach Dante in 2021?
Edilingua Webinar with  prof. Domenico Palumbo
March 6th, 2021, 19.10-20.10 Italian Time, 1.10-2.10 pm Eastern time,  10.10-11.10 am Pacific time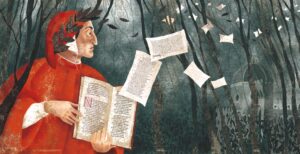 Is the Dante page current? And if so, how to bring Dante to a class of students, especially foreign students? 700 years after the poet's death, reading Dante's work is almost a duty; but it is also important to ask yourself how much of what you read is current, especially if you are a teacher and are struggling with students who, especially for the different way of learning, risk only grasping  the superficial aspects.
As much as one can read Dante for passion or for quotation, bringing the Divine Comedy to a class of foreign students is still a challenge: should Dante speak alone? Or it is legitimate, if not desirable, that a way be found to make the text as clear as possible and that a more attractive and contemporary path is added to it, capable of tickling the students' attention on the many universal themes the Poem deals with ? This webinar intends to present the construction of a didactic unit centered on the Dante page, with a double purpose: theoretical, to answer the question about the relevance of the Divine Comedy, and practical, showing how to easily facilitate the reader of Dante – be it a student or enthusiast, native or foreign, without trivializing the complexity and refinement of the original text.
Prof. Palumbo will also touch topics from "La Divina Commedia per stranieri – Inferno" (by M. Marino – D. Palumbo, Edilingua, 2020).
This webinar is organized by Edilingua for Italian Faculty in Canada and US. For more info and to participate, please click here