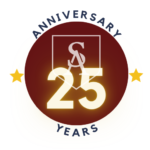 ALUMNI REUNION
AUGUST 10-13, 2023
CELEBRATING SANT'ANNA 25th ANNIVERSARY
#togetheragain
On the occasion of Sant'Anna Institute's 25th anniversary, the President Cristiana Panicco is happy to invite all our Alumnae and Alumni in Sorrento for a special reunion!
No matter when you studied abroad, Sorrento will always be your home away from home.
From a cruise gala night, to panels and excursions, there will be no better time to reconnect with your Sant'Anna family.
It will be a great opportunity to create a true community, network, get to rediscover our beautiful territory and talk about how studying abroad has shaped our lives.
The event will take place from August 10th to August 13th 2023 (see the full program and participation fee below).
Help us grow!
While we are actively working to improve our campus year by year, we need your help to make our efforts go even further.
We are about to launch a crowdfunding to collect our Alumni donations to renovate our soccer field so that our future students will have an on campus space to play and train.
More information on how to donate coming soon!
THE REUNION
AUGUST 10 – 13, 2023, Sorrento, Italy
ACTIVITIES INCLUDED
Welcome aperitivo

Round tables and networking (Finger food and soft drinks)

1 Activity (to choose between kayaking at sunset, cooking classes, tarantella dance class)

1 Half-day Field trip (to choose between Positano, Mount Vesuvius, Pompeii)

Gala Cruise at Sunset
WHO CAN PARTICIPATE
To participate in this reunion you have to be a Sant'Anna alum and graduated at your home university.
families are welcome – some activities will be for adults only
ACCOMMODATION
accommodation in SA dorms – double/triple room*
*we have 80 spots available in our dorms (double/triple rooms), and we will accept reservations on a first come first served basis. External accommodation can be arranged at an extra cost.
**single rooms available at an extra cost
PARTICIPATION FEE  (price per person)
600$ (accommodation in our dorms included – double/triple room).
550$ early bird fee (with accommodation), rsvp by November 30th
500$ Participation fee without accommodation
450$ early bird fee (without accommodation), rsvp by November 30th
DEADLINE
RSVP by February 14, 2023
TO RSVP SEND AN EMAIL TO  giorgia.delsanto@santannainstitute.com